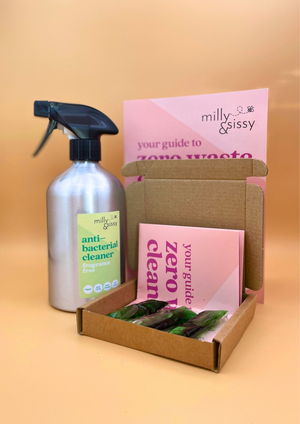 Anti Bacterial cleaner starter set: spray bottle + 3 refill pods
Sale price Price $13.00 Regular price Unit price / per
Tax included.
Shipping
calculated at checkout.
Keep your surfaces super clean and bacteria-free with our refillable antibacterial cleaner refills and refillable spray bottle. This refillable antibacterial cleaner kills 99.9% of all germs, effective against bacteria, yeasts, mildew & algae and viruses such as HIV, Hepatitis B, Herpes, Rota Virus, Bovine Corona Virus, H1N1 Avian influenza and the coronavirus which is responsible for the disease, COVID-19.  The refill sachets are completely plastic free, biodegradable with vegan and cruelty-free formulas. They're made with up to 70% natural ingredients.
Why choose refills? 
The majority of cleaning products come in plastic bottles with only 9% of all plastic being recycled creating the planetary plastic crisis we're now in.  So, let's try and reuse as much as possible!
You can use a 500ml spray bottle you have already or use our reusable & durable aluminium spray bottle to drop your refill into
Easy to use: just drop-in your sachet, add water, shake and clean!
Suitable for vegans
Made in the UK
94% lower carbon footprint (we don't transport the water)
No plastic waste
Palm oil free

Carbon offset
Plastic-free anti bacterial cleaner   
The anti bacterial cleaners simultaneously cleans and disinfects. It is effective against bacteria, yeasts, mildew & algae and viruses such as
HIV, Hepatitis B
, Herp
es
, Rota Virus
,
Bovine Cor
on
a
Virus
,
H
1N1 Avian influenza
and
the
coronavirus
which
is
responsible for the disease, COVID-19
. The concentrated sachets are to be diluted with water from the tap, so you can reuse an old cleaning bottle instead of buying a brand new, plastic one.
WHAT'S INCLUDED?
3 Anti bacterial Cleaner Refill Sachets 
Instruction & information card 
1 bottle

label

 to identify what's in the bottle
Recyclable/reusable/compostable cardboard box that fits through your letterbox
HOW TO USE  
They're super easy to make up:
Drop the sachet into a clean, empty spray bottle
Fill with water up to 500ml
Shake well and you're ready to clean! 
Depending on the job in hand, apply by spraying, high pressure washer, soaking or by mop-and-bucket.  Leave to work for as long as possible then rinse off with water. Small areas may be wiped clean with a new, clean wiping cloth.
HOW TO STORE
Store in a dry place, away from sunlight. Keep between 5°C and 35°C. Keep out of the reach of children and pets. Never use a sachet neat, always dissolve in water as directed. Test on a small inconspicuous section before use. Products may not be suitable for use on some surfaces.

SAFETY INFORMATION
Do not eat. Keep away from children. 

WHY MAKE THE SWITCH?
Our anti bacterial cleaning refill sachets are made in the UK have a super low carbon footprint! They're made with up to 70% natural ingredients & they're a great way to reduce plastic, just refill the same bottle each time you run out! All you need to do is drop them into your bottle, add water, shake and clean!

Only 9% of all plastic created is recycled which means by swapping to reusing old containers or a reusable and you'll be making a huge difference to the plastic waste being incinerated or sent to landfill.